Fonts
iMenuPro features over 80 typefaces that make up over 200 fonts from the world's top font designers.
The fonts have been carefully chosen to enhance and work with restaurant menus (good readability, modern, and trendy). Also included are several workhorse classics with high legibility.
Fonts Menu
Each Menu Style has preselected fonts referred to the Style defaults. These fonts have been chosen to work together with the design, artwork, and layout of the Menu Style. You can override these font selections, however, and make your own for any Menu Style using the Fonts menu.
Under the Fonts menu choose which Font you want to change (Normal Heading, Food Item Name, etc) and the Font box will appear. As you make changes in the Font box, you'll see the new font updated in the Sample box. At any time click the Use Style defaults button to return to Style default for the font. When you're ready, click OK and your newly selected font will be applied to all elements of that type on your menu.
Font Box Options
The following options are available in the Font box:
Font Family
The name of the font.
Font Style
Sets the weight (regular, bold, etc.) and whether the font is Italicized (regular or italic). Not all Font Families contain all font styles - some fonts will not allow you to italicize or bold the font.
Size
The font size (in points)
Spacing
The letter Spacing - spacing in between the characters of a word. To expand the spacing choose a value greater than 0. To compress the spacing choose -1. For normal spacing use 0.
Font Color
The color of the font.
Tip! Hey, where's my font? If your menu style has solid box type accent, and the font color is white to make it pop off the accent, and you remove the accent and your menu paper color is white: the font will now be most invisible. Simply change the font's color to something other than white to bring it back to life.
Effects - Underline
Underlines each character in the text.
Effects - Overline
Puts a line above each character in the text.
Effects - All Caps
Capitalizes each letter.
Effects - Stroke
Outlines the letters in the chosen font color and turns the inside of letters white or, for some styles, a specific color that goes with the style.
Effects - Shadow
Adds a slight shadow to the letters. Shadow size and color are based on the chosen style - mostly the color is a typical grayish shadow.
Shrink all fonts
Use this command to decrease all heading and food item font sizes at once. This command is also available via the tool-bar for quick access.
Grow all fonts
Use this command to increase all heading and food item font sizes at once. This command is also available via the tool-bar for quick access.
Reset fonts to Style Defaults
If you have made changes to more than one font, and want to Reset them all back to Style defaults at once, use the command Fonts > Reset fonts to Style defaults.
Custom Font Uploader
Premium Account Feature
The Custom Font Uploader lets you upload your own TTF, OTF, or WOFF fonts for use on any menu. For example, if you own or license a font that you use with your branding or marketing materials, you can upload that font and use it on your menus as well, to keep your branding consistent.
Custom Font buttons
You can upload a font by clicking the Upload Font button or browse previously uploaded fonts in your font collection by clicking the browse Custom Font box which is directly below the iMenuPro Font Family list.
To remove a font and return to the iMenPro font, click the red Remove button when it appears.
To Delete a custom font, browse to your custom fonts by clicking the browse Custom Font box and select the font you want to delete from your custom font list. Then click Delete Font and confirm the delete. Please note, once a custom font is deleted, if it was used on any other menus, it will be removed from those menus as well since the font will no longer be in the system.
NOTE Before uploading a font, you'll want to make sure that your font is appropriately licensed for use in other applications. If you do not own the font, or its not properly licensed to you, do not upload the font. If you receive a message during upload that says the font is not appropriately licensed, try uploading a WOFF version if you have one. If not, contact the font vendor that distributes the font to obtain one without Restricted License Embedding.
Color Fonts
Color fonts (also known as Multicolor fonts) are a new, exciting evolution of digital typography that is now supported by iMenuPro.
Most normal fonts do not hold color information - you choose the color manually in the app and the fonts are rendered in that color. Color fonts, on the other hand, contain color information, and usually multicolor information, in the font itself. This new technology has allowed font designers to bring rich graphic features like color patterns, gradients, and textures right into the font itself, allowing for some rather dramatic results.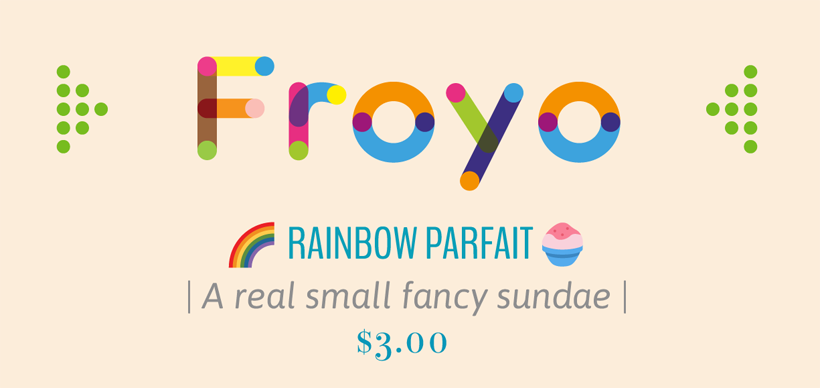 Example of the color font Color Tube used on a menu
With iMenuPro's Custom Font Uploader you can now add color fonts, like Color Tube, to your menus. Since color font technology is new, many of the fonts from emerging designers are given away free under the Creative Commons license. If you're a premium account user under iMenuPro, all you have to do is download the font, then upload it into iMenuPro.
Free color font recommendations:
Color Tube from Neogrey.

Color Tube color font
Bixa Color from PixalAmbacht and Novotypo.

Bixa color font
Fattern from Neogrey.

Fattern color font
Simply download the fonts you want, and then upload the OTF font files using iMenuPro's Custom Font Uploader.
Note Color font technology is currently supported by most of the major browsers, with the exception of Google Chrome and Microsoft's new Edge. In Chrome/Edge you'll see the font as if it were a normal non-color font. But even if you use Chrome or Edge, the iMenuPro PDF menus will still render your menus with the correct colors for the color fonts.